Connected in Christ Zoom Fellowship
In a time where connection is sparse, we believe that it is important to find connection in new ways. That is why on Wednesday October 7th at 7PM, we will be gathering via Zoom to socialize and catch up! Bring your favorite beverage and let's connect in Christ! If you are interested, please let Pastor Judy know.
Join Old St. Paul's for a blessing of the animals with the blessing beginning at 3:30 pm on October 11. The Humane Society of Catawba County will be on hand to offer a Low-Cost Rabies Clinic. One year Rabies vaccines will be available for $8. No appointment is needed. Drop in anytime from 3:30 pm until 5:30 pm. Please note: All cats must be in a carrier and all dogs must be on a leash and under control of the dog owner at all times. Please wear a mask. The event will be held outside. In the event of rain, the event will be held under the picnic shelter at Old St. Paul's Lutheran Church.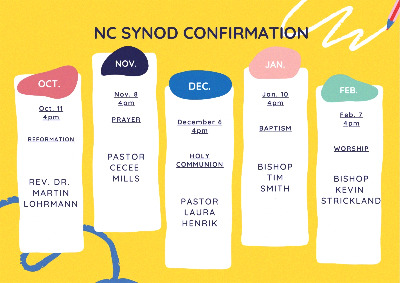 Synod Confirmation Classes
A new faith formation opportunity will begin Sunday, October 11! The NC Synod is excited to be hosting five monthly confirmation classes via Zoom from 4-5:30 p.m. Registration is open to ALL confirmands now through Wednesday, October 7. Get registered here today! Contact Tammy Jones West with questions and know that your patience is appreciated while awaiting her response.
Outdoor Worship and Congregational Meeting

Our next outdoor service will be on October 4th. We will begin with a Congregational Meeting to vote on beginning the renovation to the sanctuary. We will NOT be having Communion at this service. Later in the month, we hope to be able to go outside to celebrate Reformation Sunday, where we will have Communion.